Earn up to ₹40 per post as scholarship. Unlimited earning potential per month.
Exchange career information, knowledge, interview questions, campus tests, notes & tutorials, give/get answers...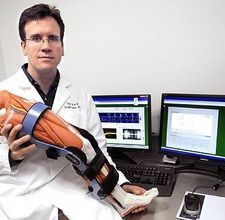 Biomedical engineering is a division of engineering that deals with the study of engineering laws and techniques that are applied in the medical sector. Biomedical engineering is related to development and manufacture of prostheses, medical equipments, diagnostic devices and drugs. The course curriculum includes bio-mechanics, tissue and cellular engineering, genetic engineering, orthopedic surgery, bio-instrumentation, medical imaging and bio-materials. There has been a great demand of biomedical engineers in recent years.
Basic Eligibility :
The normal UG Engineering criteria, 10 + 2 with science subjects (biology, maths, Physics and chemistry) and rank in JEE (Entrance Test for Engineering). For PG you have to be BE/BTech in the related field
Specializations :
Bio-Materials

Medical Imaging

Bio-Mechanics

Orthopedics Surgery

Genetic Engineering

Bio-Instrumentation

Cellular and Tissue Engineering
Job Prospects :
Biomedical engineers and technologists can seek employment in various industries such as hospitals, medical institutions, manufacturing units, medical equipment, government agencies and pharmaceuticals. Biomedical engineers develop modified devices and provide advice for handling and maintaining medical equipments. Individuals also can seek employment in medical equipment companies as technical advisers.
There are ample opportunities for biomedical engineers in the field of research and development at research institutes, government agencies in India, universities and other abroad countries. Biomedical engineers are employed in various companies such as Larsen & Toubro, BPL, Wipro Medical and Siemens into their R&D section or into sales and marketing, depending on their skills and preferences.
Institutes :
Aarupaai Veedu Institute of Technology (AVIT) Location : Chennai, Tamil Nadu, India
Acharya Institute of Technology Location : Bangalore, Karnataka, India
ACS College of Engineering Location : Bangalore, Karnataka, India
Adesh Institute of Engineering and Technology, Faridkot (AIET-F) Location : Faridkot, Punjab, India
Ambala College of Engineering and Applied Research, Ambala (ACEAR) Location : Haryana, India
Amity Institute of Biotechnology Location : Noida, Uttar Pradesh, India
Picture Sorce : MingleBox