Earn up to ₹40 per post as scholarship. Unlimited earning potential per month.
Exchange career information, knowledge, interview questions, campus tests, notes & tutorials, give/get answers...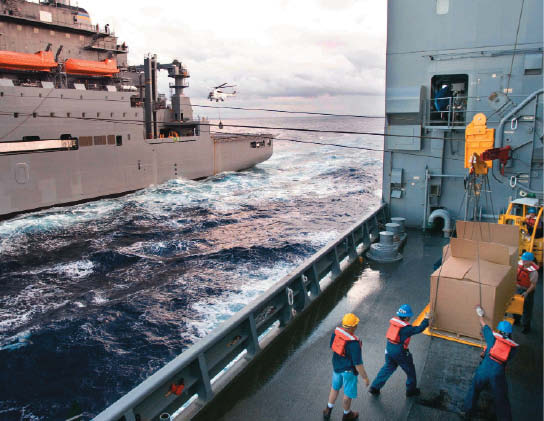 International trade, shipping offers fascinating career as seafarers. The profession is widely described as challenging, adventurous and highly paid. Seafarers are those who earn their living by service at sea.
The total number of ships across the world is about 50,500. India has got a total of 35,000 officers and 110,000 seafarers while the world shipping needs around 466,000 officers and 721,000 seafarers. There is a huge scope for this career.
In modern day shipping, the sector involves ocean management, ports, logistics, shipbuilding, supply chain management, personnel recruitment and ship-management. Also, the industry has been expanding to include more and more business functions. Besides, offshore oil drilling, marine tourism, professional and recreational diving are just a few of the numerous sea-based avenues of employment.
Job Profiles :
Ships remain the core of this hugely diversified industry. In order to manage different functions on the ship there are three distinct departments: nautical also called deck, engine and rating.
There are basically three streams of employment on-board a ship – deck officers, engineers and ratings. Deck officers have the responsibility of navigation, safe and efficient movement of the ship and cargo. Engineers are primarily needed to look after the engine, which in case of a ship is not only gigantic but also complicated. Ratings are such staff onboard a ship who offer physical help in carrying out various functions. Typically, each of these three departments has well organized hierarchy.
The life and work on a cargo vessel which includes oil tankers, petrochemical tankers, dry bulk carriers, etc. is a lot about safe and efficient management of cargo and ship. Cruise ships are growing rapidly in number though mostly in western Europe. They offer recreation, quality leisure, fun, entertainment, good food, socializing and networking. The good news is that a very satisfying career can made in the field by average students with basic schooling.
Course

Qualification

Age

Physical Standards

10+2 with minimum 55% in PCM or BSc

Eyesight:6/6 or without spectacles,without

colour blindness

Eyesight:+/- 2.5, without colour blindness

10+2 with 60% in PCM & 50% in English

Eyesight:+/- 2.5, without colour blindness
Physical Fitness :
Physical fitness is required as per ILO-147 convention, ISM/STCW Code (1/9) and Medical Examination (Ministry of Shipping, Government of India) Rules 2000.
Perks & Benefits :
Family carriage for all ranks

Hometown repatriation airfare (to and fro)

Flag state certification at company's expenses

Standby wages during courses / at the time of joining

Company's accommodation

Career prospect ashore

Excellent promotion prospects
Courses for Ratings :
Six-month Pre-Sea course for General Purpose Rating (GP Rating)

Six-Month Pre-Sea course for General Purpose Rating for Fitters/Petty Officers.
Eligibility for Ratings :
Pass with aggregate 40% marks in 10th standard from a recognized Board with Science, Mathematic as subjects and with minimum 40 percent marks in English language. Or pass in 2-year ITI course from government approved institute. Minimum 50 percent aggregate marks in final year and minimum 40 percent marks in English at 10th or diploma exam.
Age limit for Ratings :
Between 17 to 25 years.
Job Market :
The crew for a cargo vessel numbers less than 50 while that of a cruise ship could be anything between 300 and 1000. They are mostly taken on fixed-period contracts to join the ship during its voyage which could be as long as six months and above.
So, effectively, every six months, a seaman can choose a new company and vessel to work with. The salary ranges from $300-800 per month at the entry level to $10,000-12,000 and above for a captain or chief engineer. The Indian job market is flooded with international shipping companies offering most competitive wages and all kinds of perks to recruit the best hands.
Qualifications for career in Merchant Navy :
Bsc Nautical Science : This is a six-semester (three year) program constituting three stages.
A candidate is admitted to the one-year (2 semesters) pre-sea course and on the successful completion of the first two semesters, he will be awarded Diploma in Nautical Science (DNS).

This is followed by one-and-a-half years (3 semesters) on-board ship training and after successful completion, he is awarded Advanced Diploma in Nautical Science (ADNS).

After completion of the onboard training, the Sixth Semester constitutes "Second Mate Certificate of Competency" awarded by the Director General of Shipping and the candidate is awarded BSc (Nautical Science) degree from the Indian Maritime University (IMU).




First year constitute onshore training which is designed to impart basic knowledge on the type of merchant ships, ship operations, types of goods carried by ships, shipping trade and a good foundation in the basic principles of navigation and environmental sciences.




There are three courses available to become a marine engineer.
BE Marine Engineering Course: After 10 + 2 or its equivalent examination with a minimum 60 percent aggregate in Physics, Chemistry and Mathematics, and at least 50 percent in English at 10th or 12th standard, one can take the Common Entrance Test conducted by IMU for admission to the 4-year BE Marine Engineering course. The candidate should not be above 25 years and should be physically fit for sea service under standard norms, with eyesight upto +/- 2.5, and with no colour blindness.
Two-year DME Course: There is also a two-year DME course for Diploma Holder in Mechanical/Marine/Shipbuilding/Naval Architecture/Electrical Engineering.
One year pre-sea training: There is also one year pre-sea training for Graduates in Mechancical Engineering or Naval Architecture (GME).
All these courses lead to Class IV Marine Engineer Officer Certificate of Competency, awarded by the Ministry of Shipping, Government of India, after 6 months of sea service, enabling the cadets to become Marine Engineers on board Merchant Naval ships anywhere in the world. This course is strictly residential.
All candidates for Deck Cadet, GME and BTech (Marine Engineering) have to appear for Common Entrance Test conducted by IME. Successful candidates are called for counselling by the IMU, Chennai, and allotted seats in different institutions.
Students who want to make a career in any of these fields have to ensure they start early because the admission is open for 10+2 pass students. Second thing they should ensure is that their eyesight and general health is as per the required norms. Sitting in the IMU's entrance test is also very crucial. After clearing the exam, you can study these courses at IMU's four campuses and some 120 maritime training institutes spread across the country but typically concentrating around maritime hubs like Mumbai and Chennai.
The Course fees vary from 2.2 lakhs to 2.25 lakhs per annum for both the courses, both at IMU and affiliated colleges.
Institutions :
| | |
| --- | --- |
| Institutes | Location |
| National Maritime Academy | |
| | |
| Lal Bahadur Shastri College of Advanced Maritime Studies Research | |
| Marine Engineering Research Institute | |
| Marine Engineering Research Institute | |
| Indian Institute of Port Management | |
| National Ship Design & Research Centre | |