Earn up to ₹40 per post as scholarship. Unlimited earning potential per month.
Exchange career information, knowledge, interview questions, campus tests, notes & tutorials, give/get answers...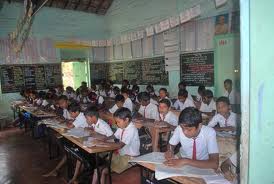 A national survey carried on school-going children to test their ability in mathematics and reading has revealed disturbing facts about the condition school going kids in the country and eventually the schools.
With overall national average of 24%, the state of Maharashtra is right at the bottom with just about 22.6% of class V students tested for the mathematical ability only could solve simple arithmetic sums from class III books.
"The report revealed that most children in school today are at least three grade levels behind where they should be", said Madhav Chavan, President, Pratham Education Foundation, a non-government organization (NGO) which carried out this annual survey, call Annual Status of Education Report 2012 (ASER 2012).
In a sharp decline of standard from 58.6% in 2010 to 77.4% of the students of class V in this survey could not solve simple division problems which they have studied and solved in class III.
Educationist are attributing this decline to failure in implementation of new education reforms introduced in the past 2-3 years, which include no exam system up to class VIII, continuous and comprehensive evaluation (CCE) and such others. Former chairman of Maharashtra State Board of Secondary and Higher Secondary Education said, "Bringing new reforms into the education system is like a ritual for the government but monitoring its implementation was never on its agenda."
Dilip Gogate, former director of education, blamed it to no exam system which makes teachers, students and parents take primary education very lightly, with no exam, there is no target for students to perform and nobody knows if they can solve mathematics or read English.
The states of Bihar, Kerala, Himachal Pradesh had 31.4%, 45.9%, 48.7% rates respectively, for class V students who could solve division problems from class III. The overall rate for India fell from 36.2% in 2010 to 24.8% in 2012.