Earn up to ₹40 per post as scholarship. Unlimited earning potential per month.
Exchange career information, knowledge, interview questions, campus tests, notes & tutorials, give/get answers...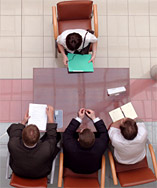 You walk into the interview room, shake hands with your interviewer and sit down. Guess what their first question is? "Tell me about yourself." In most cases you "make or break" in this first question itself. Because it's such a common frequently asked question, it's strange that most candidates don't spend the time to prepare for exactly how to answer it. The question seems informal – and actually most start telling all manner of things about self, family members, family background, then rambling on about what an easy-going, loyal, dedicated, hard working employee they could be etc. – a 10 minutes of dissertation. This is the best way for boring the interviewer, creating a negative impression and losing the job opportunity.
Why they ask this question? :
One must understand that in most cases to actually know about you as an individual is the secondary purpose. The purpose actually is – to see how the candidate handles him/herself in an unstructured situation, to see how articulate he/she is, her/his confidence level and generally what type of impression the candidate would make on the people with whom he/she come into contact on the job or meet first time. The interviewer is also looking to get a sense of what the candidate think is important, in respect of him/herself to align with the requirements of the job being offered.
Very common wrong responses :
Following are the very common responses which go against the candidates – (we are giving here only the initial part of the response for brevity but they can certainly make out the point)
"Yeah, my name is XYZ and I was born to a middle class family. I have two younger brothers both studying and an elder sister, married only last year. My father is a government servant and is about to retire the next year and mother is home maker. I did my graduation in ABC major and post graduation in CDE in the year ….."

"My name is XYZ and I am the eldest in my family to look after. My father died last year and the entire responsibility of my family lies on me. I am ready to do any kind of job in your company….."

"…… I am a fresher, passed out my engineering only last year. Currently I do not have any experience and position advertised also does not require it, but I can work hard and learn the required skills on the job…."

"…… whereas the job advertised only require graduation I have post graduation with 90% score. I also have about 5 years of experience. I am confident that I can supervise a team of any number of subordinates ….."

"….. actually the present company that I am working is full of politics and favoritism….."

And he worst could be to ask the interviewer " what do you want to know?"…
The above responses are only examples but real and the list is not exhaustive. The readers may make out the line on which the answer should not go.
This question is your USP (Unique Selling Proposition) :
Give them "your synopsis about you" answer, specifically your Unique Selling Proposition. Known as a personal branding or a value-added statement, the USP is a succinct, one-sentence description of who you are, your biggest strength and the major benefit that a company will derive from this strength. Here is an example of a Unique Selling Proposition: "I'm a seasoned Retail Manager strong in developing training programs and loss prevention techniques that have resulted in revenue savings of over $2.3Million for <employer's name> during the past 3 years."
You have made a lot of difference with this statement, to grab the attention of the interviewer. Remember, the interview is not for verbally repeating all those things from the resume but an opportunity to carry it forward. At this point, you might also add : "I'd like to discuss how I might be able to do something like that for you." The ball is now back in her court and you have the beginnings of a real discussion and not an interrogation process as many candidates perceive the interview as.
Be Specific :
The key is that you must lead with your strongest benefit to the employer. Be specific and don't wander about with some laundry list of skills or talents. Be sure to put a monetary value on your work if at all possible and be ready with details when you're called upon. Give an estimated value you've either helped to make or save for your employer. This may be any form – right from office layout organization, providing new product idea or employee management to enhancing the sales – depending upon the area of the job and your skills.
Don't be unaware of the question :
When you walk into an interview, remember to always expect the "tell me about yourself" question. Prepare ahead of time by developing your own personal branding statement that clearly tells who you are, your major strength and the clear benefit that your employer received. The advantages of this approach are that you'll quickly gain their attention and interest them in knowing more. You'll separate yourself from your competitors. You'll also have a higher chance of being positively remembered and hired.
Also Read : 15 Most Difficult HR Interview Questions