Earn up to ₹40 per post as scholarship. Unlimited earning potential per month.
Exchange career information, knowledge, interview questions, campus tests, notes & tutorials, give/get answers...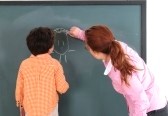 Speaking to a gathering on May 29 in the capital, the HRD Minister, Kapil Sibal attributed the poor quality of education to low salaries being paid to the teacher; a truth spoken loudly by the education minister himself which was only being whispered before. He stressed on the need for the teachers to be paid more along with some better perks to ensure that the best talent gets attracted to the teaching profession. "There is no uniformity in salaries of teachers, no medical benefits, no house rent allowance, incentives or pension," he said. "Even parents encourage their children to go for jobs that get them liquid capital (money)… Unless we realize it is the most important to invest in building human capital by educating children, we can't do anything," he said. The point was well received by the teaching fraternity.
Principal, Tagore International School, New Delhi, Madhulika Sen, said to a news agency , "I agree with the minister completely. Teachers get low salaries so they have to look for other options. It is because of this the culture of coaching has flourished. Tuition system was not there earlier, but because teachers are not paid well, they have to look for other options to earn money."
Principal, Springdale Public School, however had a different view. "though salaries had increased, it was the glamour of corporate world that took away the talent. The global economy is such that the young people are more attracted towards the corporate," she said.
Nirmal Sonkar, who has been a teacher in a government school for over 20 years, advocates a pool of resources for teachers, something the HRD minister also advocated.
"Salaries in teaching profession have been better after the implementation of the sixth pay commission. However, to add to the talent pool of teachers, we need constant update mechanisms in the profession," Sonkar said.
"We cannot involve youth in this profession unless we evolve and update our obsolete education system. There should be evaluation, seminars, interaction and more classroom-based powers with teachers in government schools also. Increasing the salaries alone will not do," she added.
Sibal also said a "pool of pedagogy" was needed to meet the challenge of having quality teachers.
"Data banks with high quality teacher education material can be set up which can be accessed by all. There is no system in place to ensure life-long learning for teachers," the minister said.
"Globalisation of education is the reality of our times. We need global commitment to the issue," he added.
The minister also said the national mission on teacher's education being launched in the 12th plan had its focus on improving quality of teachers.