Earn up to ₹40 per post as scholarship. Unlimited earning potential per month.
Exchange career information, knowledge, interview questions, campus tests, notes & tutorials, give/get answers...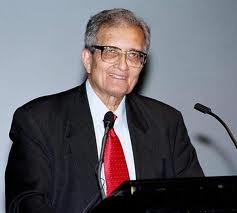 India has to learn a lot from Southeast Asian countries about providing education to its people, feels Amartya Sen. The Nobel laureate, who has been appointed the first chancellor of the upcoming Nalanda University in Bihar, was speaking on the occasion of international seminar on 'Civilizational Dialogue between India and ASEAN', Friday (20 July 2012), as key note speaker.
"Japan was the first country in Asia that caught up with the west on the basis of providing education to all. Even China, which is currently a major economic power in the world, first ensured literacy to its people to ensure development of the country," Sen said.
Sen said, not only China, but also Bangladesh is way ahead of India in providing education to girls. Bangladesh is the only country in the world where the number of girls going to school is larger than the number of boys.
"In the last two decades, Bangladesh has been focusing on women's education. It is evident now as there is lower maternal mortality in Bangladesh than in India. Literacy rate of girls is more. The women are playing an important role in development of Bangladesh due to education," he said.